Serving La Jolla for over 30 years, our loyal customers enjoy our commitment to freshness, quality and value.
We cook and bake in the European tradition and grow many of our fruits and vegetables in our organic garden in Julian, CA. Perhaps on your visit to Girard Gourmet, you will see Francois arriving with a basket of fresh picked heirloom tomatoes or a bushel of the best peaches you can imagine!
You will find us at Girard Gourmet every day, creating healthy and tasty menu items with fresh and seasonal ingredients for breakfast, lunch or dinner.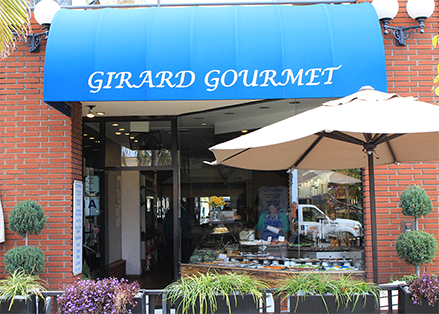 The same freshness is the reason why our clients choose our catering service. We custom design your menu and organize your business lunches or social events throughout San Diego County with as much detail as you require. Our special desserts and custom designed cookies will make your event memorable and unique!
We look forward to your visit to Girard Gourmet. You can also contact us at
858-454-3325
or by Email:
[email protected]

.
- Diana and Francois Goedhuys
We are currently experiencing phone issues, please email us for service.
[email protected]